Myth

: The Club doesn't significantly affect the lives of our youth.


Fact

: 57% of Boys & Girls Club alumni said the Club "saved my life."
One Campaign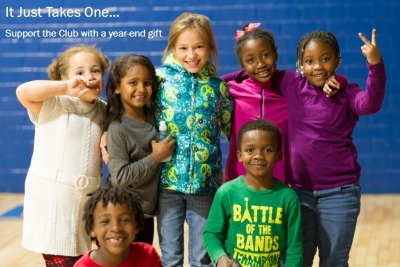 Friends,
The Ludlow Community Center / Randall Boys & Girls Club has been a vital part of our community for the past 70 years. Parents rely on the Club to provide safe, fun care for their children while they are at work. Seniors have a comfortable, familiar place to exercise. Teens have job opportunities, participate in sports, and make lasting memories. Since opening our doors in 1950, we have withstood countless challenges. We have always prided ourselves on being able to adapt to the changing needs of our shared community.
And then came 2020 – our biggest challenge yet. For four long months, we learned what it felt like to not have the Club in our lives. It wasn't pretty.
With the COVID-19 pandemic still compromising daily life for all of us, the Club has been hit. Hard. Being forced into closure for over four months, losing hundreds of thousands of dollars in regular monthly revenue and fundraising opportunities, we've had to make some difficult choices. We chose to open our doors, modifying every aspect of every program, knowing that anything and everything might change at a moment's notice. It would have been easier to have waited – to react instead of being proactive. It would have been easier to not have bothered with a Summer Fun program. It would have been easier to offer our regular Before and After School programs once school started, for fewer kids, with fewer changes.
But that's not who we are.
When we learned that the Ludlow Public School system needed help to support teachers and students with Remote Learning, we stepped up to create, staff, and supply a brand new program for school-age children.
When we realized that most families, understandably, had not budgeted for a daily childcare program, we stepped up to offer our Remote Learning Program at a reduced rate, even though it meant not covering the Club's expenses.
When we learned that new regulations would limit the types of athletic programs we could offer, we stepped up to think outside the box, offering yard games, smaller, more personalized sports clinics and outdoor programs to help kids stay active and regain some semblance of normalcy.
When we learned that new regulations would restrict adults from entering the building during youth program hours, we stepped up to expand our hours of operation and offer open gym time for FREE to our incredibly patient adult members.
The Club is all about stepping up. Our goal is to serve the community, and serve with kindness. There is so much more work to be done.
Will you step up with us?
Please consider stepping up becoming a 2020 Hero for the Club by supporting our annual ONE Campaign. Your donations are needed now more than ever to help us adapt to a "new normal" and continue our mission to inspire and enable youth and adults to build better communities.
We know that this year is different for all of us. Instead of a onetime gift, we ask if you'd consider remembering the Club with a monthly gift. An automated monthly gift is a simple and easy way to maximize the impact of your gift and will give you access to the Club's inner circle, with regular updates and insights. With your help, we will never again have to experience what Ludlow would feel like without the Club.
Please know that we are thinking of you, our loyal fans, and are wishing you safety, health, and peace of mind as we approach flu season and a new period of unknowns. Together, we can and will overcome any obstacle.
Make a tax deductible donation today! As required by Section 170 of the Internal Revenue Code, we acknowledge that you received neither goods nor services in return for this gift. Tax Exempt # 042089767
---
One Child
Each child that walks through our door has one unique future. One may come from a loving, single-parent family. One may speak little English. One may not have a home. At the Boys & Girls Club, it is our job to give each child a real sense of hope and opportunity. We work to bring out what's inside a child and we carry out our mission with care. We take it one child at a time.
Professional staff members at the Ludlow Community Center/Randall Boys & Girls Club are experts at providing informal guidance to a young person that will help develop character. We have the potential to impact the life of each and every young person we serve. Your generosity allows the Club to have a profound impact on a child's life by offering fun and appealing activities that show we care.
The Ludlow Community Center/Randall Boys & Girls Club provides:
A Safe Place….for those who may be left alone after school or on the streets with no guidance. The Club is a safe place to play and a place safe enough to be yourself.
Life-Enhancing Programs…that can open young minds. The Boys & Girls Club exposes youth to new ideas and skills that prepare them for life. We teach the importance of character in all of our programs.
A Relationship with Caring, Trained Adults…the better the programs; the more children we can attract; the more likely they will build a relationship with a caring adult; the more opportunity our Boys & Girls Club can positively influence the character of a child.
Hope and Opportunity…as young people experience our Club, we become a place for hope. Hope leads to increased confidence and a brighter future.
Our fees and dues are affordable so that all children can have access to our programs. Your financial investment helps us continue to welcome and inspire more and more children who need help each day. Your support helps us be their home away from home.
One Opportunity
Every day professional staff at the Ludlow Community Center/Randall Boys & Girls Club are faced with a daunting challenge: take one day, one program, one hour, to help turn a life in the right direction. Keep a child engaged and eager to learn more. Create a relationship that will have influence for a lifetime.
Our staff is dedicated to teaching the importance of character in daily life. They are caring adults who strive to direct children to choose right from wrong. They instill a sense of belonging and promote feelings of competence. They give children a chance to make positive choices.
According to the U.S. Departments of Education and Justice, students in quality after-school programs have better academic performance, behavior, and school attendance and greater expectations for the future. Therefore, at the Ludlow Boys & Girls Club, we offer time-tested and nationally recognized programs and activities in five distinct areas:
Character and Leadership – Helping boys and girls become responsible citizens and experience the democratic process. Building character is our strongest strategy.

Education and Career – Encouraging youth to create aspirations for the future, providing them with opportunities for career exploration and educational enhancement.

Health and Life Skills – Facilitating the achievement and maintenance of a healthy, active lifestyle. Programs address issues such as resisting violence, drug abuse, and premature sexual activity.

The Arts – Enhancing self-expression, developing multicultural appreciation, and gaining creative skills.

Sports, Fitness and Recreation – Developing fitness, use of leisure time, reduction of stress, appreciation for the environment, and social skills.
Your financial support is essential to the programs and activities our Club offers the children of our community. Your investment enables the Club's professional, caring adults to guide our young people.
One Future
Make one commitment to the future of youth today. The Ludlow Community Center/Randall Boys & Girls Club delivers quality programs and an exceptional experience for the at-risk children of our area. You can help our Club attract and capture the interest of local youth. It just takes one donor like you to make a difference. Together we can make a direct impact on the lives of our kids, and therefore, on our community and society.

Your dollars support boys and girls. Your dollars stay in your Club. Your dollars will last a lifetime.
It just takes one…