The Darlene J. Rae Scholarship Fund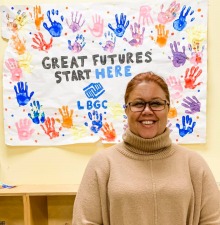 In the fall of 2021, we lost an incredible member of our Ludlow Community Center/Randall Boys & Girls Club Family - Board Secretary, Darlene Rae. To say this is a tremendous loss is an understatement. Darlene put the spark, the laughter and SO MUCH LOVE into so many lives. Darlene loved the Club and gave so much of herself to advance our mission. Beyond her role as our Board Secretary, Darlene was a constant presence here at the Club whether it was chairing an event committee or showing up with trash bags to pull weeds. If something benefited the Club -- nothing stopped this woman! Darlene was a gift. May we all carry forward Darlene's spark and care for others as she did so selflessly for so many. Darlene made a huge dent in this world leading, inspiring and always laughing. She will always be in our hearts.
At the request of her family, a scholarship fund has been created to carry forward Darlene's legacy. Donations to the Darlene J. Rae Scholarship Fund will help children access any and all programs at the Club, to ensure that all youth can have the opportunity to be a Club Kid.
If you would like to donate to the Darlene J. Rae Scholarship Fund, please click on the DONATE button below and write "Darlene" in the dedication field. You may also choose to send a check made payable to the Ludlow Boys & Girls Club, listing "Darlene Rae Scholarship" in the memo). Thank you!