Summer Camp 2019: June 17 - August 16
Want to help Make Summer Magic for a youth in need?
Make a donation to our Campership fund!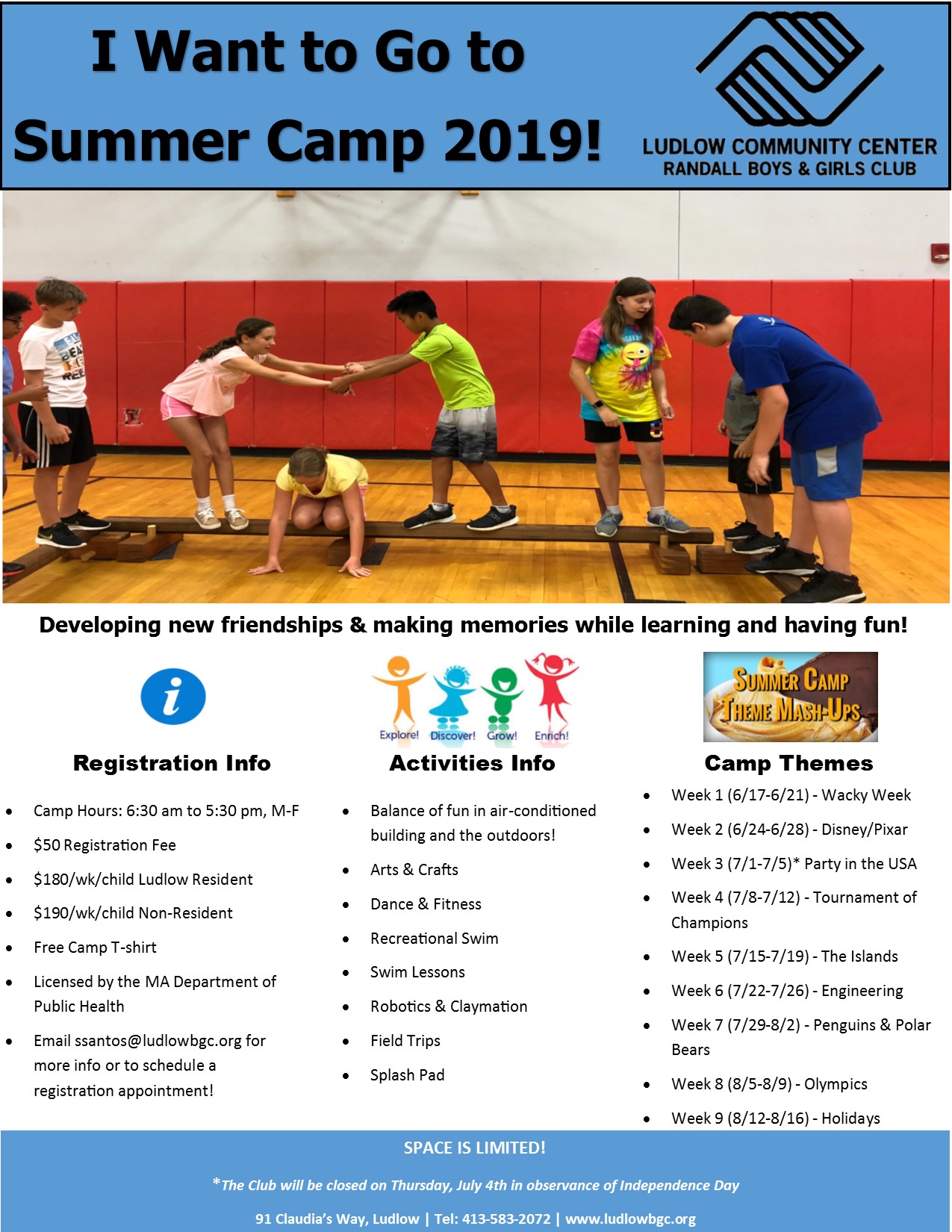 General Registration is still open, by appointment only:
Ludlow Resident: $180 per week, per child
Non-Ludlow Resident: $190 per week, per child
20% of total camp fee is due at time of registration.
$50 Registration Fee due at time of registration. Fee will be waived if paying in full or using auto-debit. Please bring a voided check or bank letter. Current immunizations are due at the time of registration for each child.
About Our Summer Camp

We are open Monday through Friday from 6:30 a.m. to 5:30 p.m. Our camp services boys and girls ages six to fourteen (children must have completed Kindergarten through 8th grade). Campers and their families have the option of registering for all weeks of camp or individual weeks. This camp must comply with regulations of the Massachusetts Department of Public Health and be licensed by the local board of health.

Daily Activities
Our Program provides campers the opportunity to experience a number of group and individual activities. The following is a sample of the activities your child will be involved in:
| | | | | | | |
| --- | --- | --- | --- | --- | --- | --- |
| Red Cross Certified Swim Lessons | Arts & Crafts | Recreational Swim | Theme Weeks | Learning Center | Pavilion & Splash Pad | Computers & Technology |
| Outdoor Play | Literacy Enhancement Programs | Field Trips | Field Games | Adventure Learning | Dance & Fitness | Game Room Time |
For additional information or to schedule an appointment, please contact: School Age Childcare Director Sheri Santos:
583-2072 x125 or ssantos@ludlowbgc.org