Annual Meeting Elects New Board Members & Celebrates Volunteers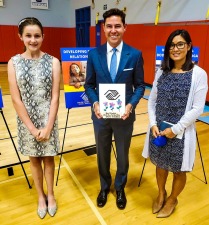 On September 23, 2021 the Ludlow Community Center/Randall Boys & Girls Club held its Annual Meeting. The meeting is an opportunity to share the Club's impact and priorities for the coming year and to recognize community members for their support.
This year, the Club elected four new board members:
Brandon O'Brien, Senior Associate, PwC
Sarah Pascale, Principal, Law Offices of Sarah M. Pascale
Rick Tremblay, HR Manager, Prefere Melamines
Scott Ganhao, Branch Manager, PeoplesBank
The Club also welcomed a new Club Ambassador, to serve as a volunteer and advocate for the Club: Zac Ellison, with the Ludlow Fire Department.
The Club also celebrated the service of outgoing Board Chair Susan Teixeira, board member and Fire Chief Ryan Pease, and three longtime board members and former Board Chairs: Anthony Forzano, Phil Goncalves, and Rich Maynard. We also recognized staff member and Athletic Director Matt Thompson for his hard work and willingness to always pitch in to help the Club, in various departments outside of his role supervising youth athletics. The Club would not be where it is today without the time, treasures, and talents of these incredible individuals.
Photo: Club kid Katherine, Rep. Jake Oliveira and Club President/CEO Chile Salazar say a few words at the Annual Meeting.
Earlier this month, the Club and community lost our friend and advocate Darlene Rae. At the Annual Meeting, we announced a new name for our annual service award. This year, we were honored to present the first ever Darlene Rae Helping Hand Award to Scott Ganhao of PeoplesBank. Scott's passion for the Club and for the community of Ludlow are unsurpassed and we are grateful for his hours of service, doing everything from helping to put on events to painting the Art Room for our youth members.
To see more pictures from the event, please visit our Facebook page.
---
---